Need an easy yet tasty way to feed you party guests? Let us help. Our Hog Roast team in Richmond are here to provide the highest quality of food for your event, whatever the size of party. We can cater for any type of function, for guests of all ages. We started our business to take the stress out of the way you feed your guests on that special day; we promise organising your party catering needn't be a hassle. Book with us and you can make sure your guests go home well-fed and with a satisfied grin on their face. Here at Hog Roast Richmond, we pack our menus full of the freshest fare, the best locally sourced produce, the highest calibre of free-range meat and the tastiest seasonal ingredients available. We work closely with some great local food producers, and we make all of our dishes from scratch onsite.
Our experienced chefs will put together an exceptional buffet to go alongside your roasted hog or other cook meats. Cooking them on a spit as a centrepiece is a favoured method of presenting your meat dishes – then they can be carved right in front of your guests eyes, for added drama. Once the hot food has been served, you can save any leftover meats to be served cold for later in the event – or even next day.
Catering and Hog Roasts for all Occasions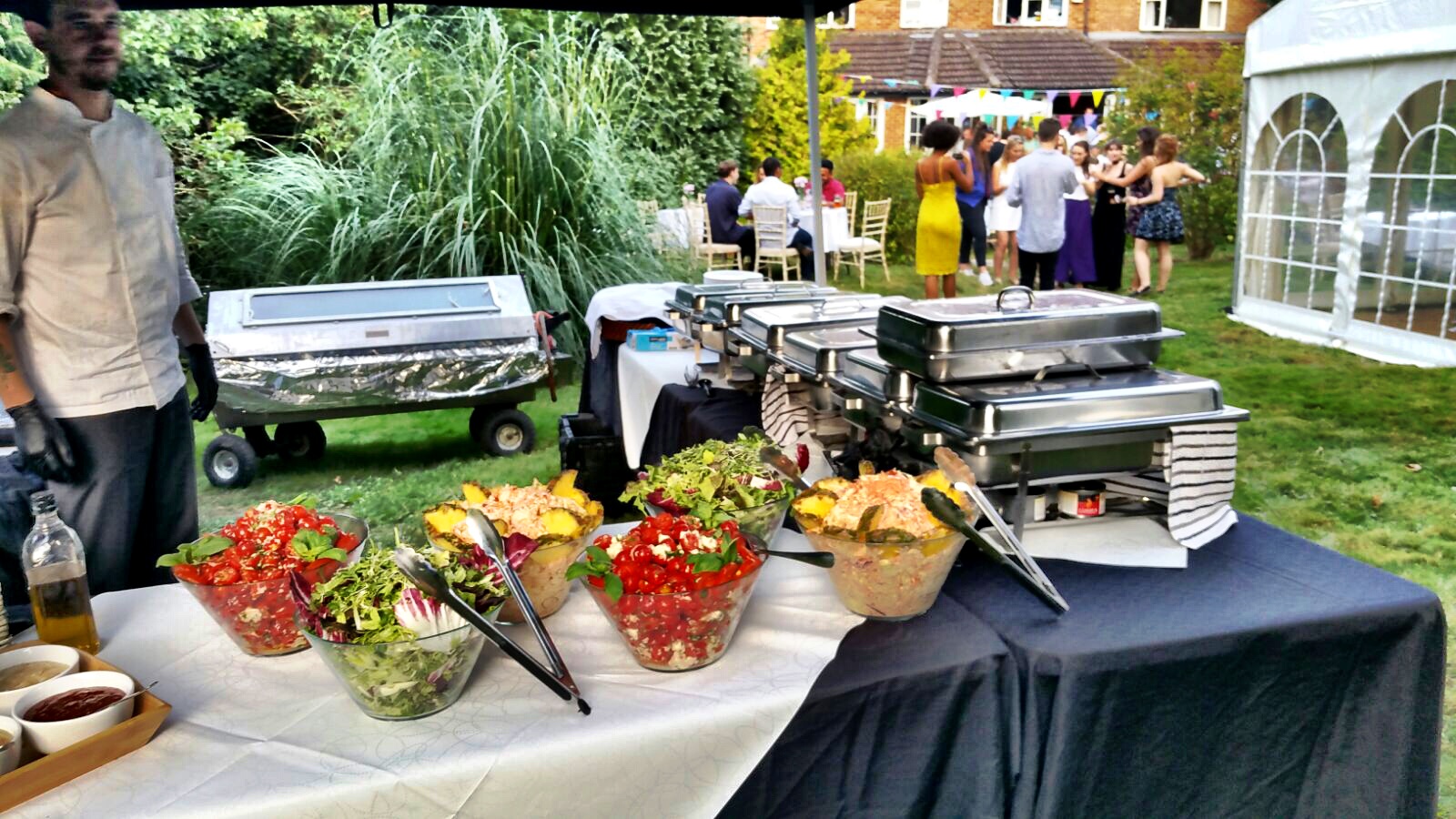 At Hog Roast Richmond we have over a decade of experience in roasting whole hogs. We've got a great track record, you just need to talk to a selection of our many satisfied customers to get an idea of how we work.
Here at Hog Roast Richmond, we are firm believers in making the most of the local area's natural resources, which is why we only select the finest locally-produced ingredients for all of our menus. Our discerning approach and unwillingness to compromise on flavour or quality guarantees that we always provide the best possible dining experience for every event we cater for.
You may be under the impression that in hog roast catering, the meat comes first and everything else is an afterthought. We can assure you, that for us, this is definitely not the case. We take just as much care in choosing our ingredients for our side dishes and vegetarian options as we do when we are sourcing our supply of the finest pork the local area has to offer. This allows us to provide exciting and well-rounded menus that will meet the requirements of every single guest and be suitable for any occasion, whether it be an outdoor garden party for family and friends, or a formal banquet overlooking the Thames.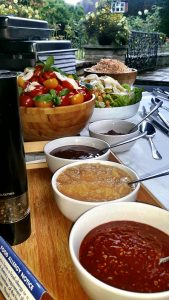 With our superb slow-roasted meats that will satisfy anyones appetite and our extensive selection of fresh, vibrant salads, Hog Roast Richmond always delivers an outstanding level of food and service for every occasion.
We've catered for events across Richmond and the surrounding areas, including birthday parties, christenings, weddings, anniversaries and corporate events. Let our team take the hard work out of getting your food ready so you can spend your time enjoying the party yourself, or dealing with the other many tasks you may have to contend with – like paying the DJ and looking after your elderly relatives.
It's certain that in the vast array of menus and dishes that we offer, you will be sure to find the perfect fit for your upcoming event. Don't hesitate in contacting for a free same day quote.
Hire Your Own Hog Roast Machine in Richmond
With Hog Roast Richmond it is also possible to hire a hog roast machine and cook your meats yourself. We know that you don't always want external staff at your private function, so we will come and set-up your roasting station, give you a demonstrate of how to cook, leave you with a hog and cooking gas, and let you get on with it. We will pick-up the machine when you are done, or next day.
Just give us a call to get an accurate quote and start tailoring a package that suits your guest's tastes as well as your budget.