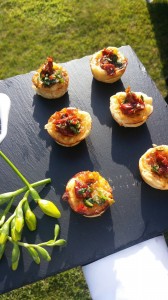 We have spent the last 25 years providing premium quality hog roasts all over Richmond, and while over the years our team has grown, our approach has evolved, and our menus have become more diverse, our passion for what we do has always remained the same. We started our business because we believe slow roasting is the best way to cook not just pork, but all meats, and we wanted as many people as possible to share this experience and become converted to this style of cooking. We love exceeding people's expectations with the quality of our slow-cooked meats and we take pride in pleasing everyone with our varied menus that cater for all tastes.
Diverse Dining Options
Whatever special occasion you are planning, we have a menu to match your requirements. With wedding menus ranging from a simple low-key buffet, to a formal 3 course meal with canapes, we can do it all. The same goes for our chic corporate menus and varied private party options. Not only do our menus vary in complexity and formality to suit all manner of occasions, all of our options can be adapted to include vegetarian alternatives and gluten-free products.
It doesn't matter if we are feeding 20 people or 200, or how many courses you want us to provide, our skilled team will prepare everything to the same high standard, and we can guarantee that every guest will be offered freshly prepared locally-sourced ingredients and have an unforgettable dining experience.
Our Service Style
The style of service we offer is as adaptable as our menus. If you want our hog roast machine to be a centre piece at a relaxed outdoor occasion, we are more than happy for chat to guests whilst they watch the fascinating cooking process, or if you just want great food without the focal point, we will discreetly stay on the side-lines.
For informal occasions, we can present the food in a buffet style on our own serving table and let everyone help themselves, but if your event requires a more formal feel, we can provide table service and additional staff to welcome guests and serve drinks and canapes.
Whatever style of service you require, we will always get it just right. Our diversity as a company is exactly what our customers love about us.